Walter Francis, Jr.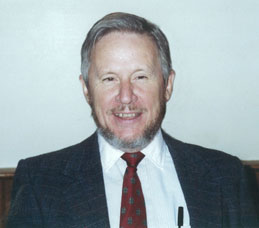 In Memoriam
Walter "Sonny" William Francis, Jr. died in the arms of Thelma, his loving wife of 53 ½ years, on Wednesday, March 12, 2008. He was 74.
Mr. Francis was born in Louisville, KY and lived in Tennessee and Virginia before settling in Madison, NJ, where he lived most of his life.
Located in Chatham and starting as Chatham Minuteman Press in 1978, he was co-owner and president of the company which became Chatham Print & Design. He retired in 2000. Mr. Francis developed and implemented his own computer software for managing the business' operations, and that program is still used daily by the company.
Prior to that, he was employed by AT&T Long Lines for over 25 years. He traveled internationally for his job and when he retired from AT&T, held the position of Overseas Manager.
A longtime member of St. Vincent Martyr Church in Madison, Mr. Francis was instrumental in the formation of their Parish Council. Most recently he attended the Friday Morning Men's Bible Study Group at Drew University.
For their dedication and service to the Chatham business community, Mr. Francis and his wife Thelma were awarded the very first Bedrock Award from the Chatham Area Chamber of Commerce.
Other organizations in which he had been active include Madison Little League, Madison Boy Scouts and Madison YMCA Indian Princesses. He was on the Board of Directors of the New Jersey Association of Quick Printers and ran the national convention in Washington D.C. for the National Association of Quick Printers.
Mr. Francis and his wife Thelma loved traveling in their motor home, passing through and spending time in many of the lower 48 states, Canada, and Alaska. He enjoyed fly fishing and they both made new friends along the way. They are members of Thousand Trails Camping Association and the RV clubs "Escapees" and FMCA.
Mr. Francis fought a courageous and aggressive battle against bladder cancer. His family encourages everyone to have annual cancer screenings.
Mr. Francis was a strong and supportive husband of Thelma; role-model and inspiration to his children Jeanette Gupko and her husband Robert of Tannersville, PA, Barbara Krysa and her husband Edward of Denville, Walter William Francis III of Madison, Linda Stout and her husband Donn of Myrtle Beach, SC, and Susan Kessel and her husband Scott of Basking Ridge; devoted grandfather of Christopher and Stephanie Gupko, Justin and Shauna Stout, and Matthew and Nicole Krysa; cherished brother of Thomas Francis and Donna Heimer both of Louisville, KY. He was predeceased by his brother Kenneth.
Those who wish may contribute in his memory to either the Madison Volunteer Ambulance Corps, 29 Prospect Street, Madison, NJ 07940 or Memorial Sloan-Kettering Cancer Center, PO Box 750, NY NY 10021-0036.
Walt's faith was an inspiration to everyone he met. His wealth was not in material things but in his love of God, his love of family, and his love of people. We wish him peace and happiness.